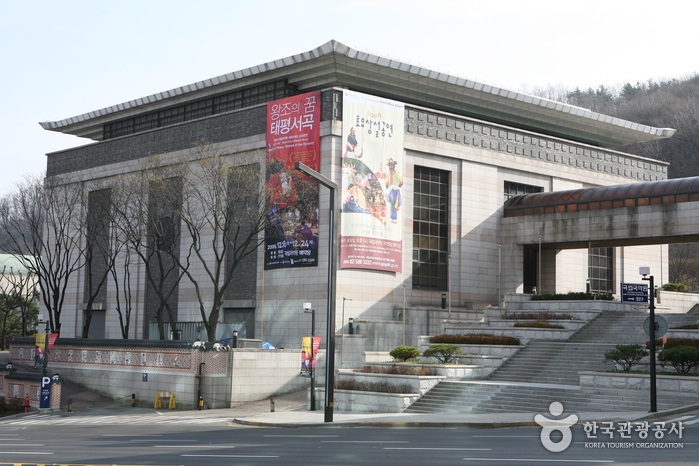 June 13, 2013
Dear Friends,
As I write I am preparing to embark on a two-and-a-half-week whirlwind 'tour' of sorts. First, tomorrow I fly to South Korea to attend two intense weeks of the International Gugak Workshop at the National Gugak Center (pictured above) in Seoul. (My hotel is in Seoul's now-famous Gangnam district, hence the crude pun attempt in my title). As I blogged, fifteen foreigners were selected to come and learn Korean traditional music, sponsored by that government. Our group being composers and ethnomusicologists, mostly college professors, the program is intended for us to proliferate this music back in our various home countries through our professional work. It's an example of the so-called Korean Wave phenomenon of cultural influence that that government wisely embraces.
At the IGW my daily schedule will include lectures on the theory and history of gugak (Korean traditional music), as well as training in various traditional instruments, with an emphasis on janggu (two-sided drum) and kayageum (12-string zither). Activities stretch into the evenings with concerts and other functions. I can't promise, but I will attempt to blog about this experience in my News feed (http://fairbanksmusic.com/news/) as often as possible.


In the few moments I will attempt to carve out time away from the busy workshop, I've made plans to see a few colleagues in town, and my sister-in-law with her family. I also hope to catch a concert or two in town, and certainly to visit the famous Insadong district to browse traditional instrument shops and pick up piri reeds. Chances there are often that the shop owner may happen to be a master musician, or even an "Intangible Cultural Asset #[x]", in a system where the government literally ranks (tangibly) elite artists according to their cultural value. Sure, it goes a bit far, but it does hint at the high value that this fascinating society places on the arts!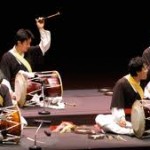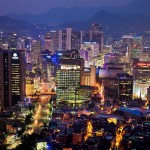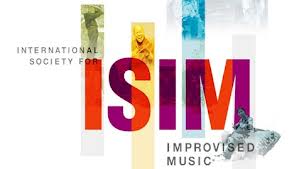 Things won't slow down after the workshop. Through the magic of overseas travel, on my return to NYC I will gain back the day I will have 'lost' during my flight to Asia. Since I will land in Queens at essentially the same time I took off from Incheon (I love that), I can still attend the conference of the International Society for Improvising Musicians that starts, well, before I return. Though it's not wise for me to pack these two events one after another, these are two things that I simply had to say 'Yes' to. Not only is the ISIM conference theme "Cross-cultural improvisation" (already jumping out at me), but three of the leaders happen to be players of Korean instruments, and they include a renowned piri and taepyeongso artist – one I've been hoping to get a chance to study from (can't say 'No').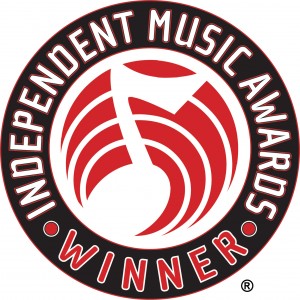 INDEPENDENT MUSIC AWARD!
In a last-minute announcement, I just learned this week that I was chosen for the 2013 Independent Music Award in the Best Jazz Song category!  Here's my initial post about it.  The panel of Jazz judges included McCoy Tyner, Arturo Sandoval, John Medeski, and Chris Wood.  As detailed also in the link, you can still cast your vote for me via the separate, fan-determined-winner competition, called Vox Pop. See the official announcement here.  And here, just for giggles and grins, is a head-inflating nominees page with "winner" loudly stamped under my image.  By the way, click on my image to visit my IMA profile, where you can both listen to the entire winning song "Bi Bim Bop", and read my Q&A interview on the same page while you listen.

UPCOMING SHOW: 7/1/13 @ ROULETTE: ISIM IMPROVISING ENSEMBLES
8-10pm at Roulette: 509 Atlantic Ave Brooklyn, NY 11217.  I finally got more info about this event from the ISIM. This culminating concert of the ISIM's annual gathering will feature dozens of us participants improvising — together. We'll be split into several improvising ensembles led alternately by notable special guests, including Korean instrumentalists Gamin and Shin Hyun-Sik.
RECENT SHOW FOLLOW-UPS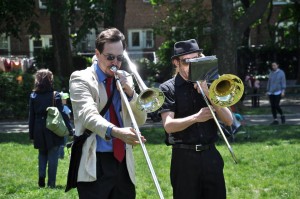 5/25/13 STREET BEAT AT SUNNYSIDE GARDENS PARK
Street Beat entertained the crowds at this Memorial Day Fair, strolling around New Orleans-style as well as putting on a stationary show. Their board gave us a glowing review on their recent newsletter.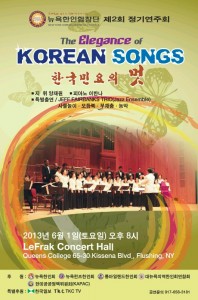 6/1/13 NY KOREAN AMERICAN CHORALE @ LEFRAK HALL
My wife, Choi, and I appeared together on stage for the first time since our previous performances in the Philippines and Korea in 2011. We were joined by our friend and stellar guitarist-composer Ryan Pate (whose debut album should be released later this year). It was very recharging as an artist to play in a beautiful hall in front of a large, enthusiastic audience. I was honored to appear as a special guest with the NYKAC, performing Korean songs arranged for this Jazz setting of guitar, trombone, and cello.
6/9/13 BJORKESTRA @ HIGHLINE BALLROOM
I joined Travis Sullivan's Bjorkestra for the first time, as a sideman for this gig. He has arranged the music of Icelandic pop icon Bjork for Jazz big band, and enlisted a group of top NYC Jazz musicians to play it. Bands across Europe and in Asia have brought him over to lead their own bands in concerts of this music, too. The band includes an electronics artist whose effects included floor-shaking bass waves that pumped through the Highline's sound system. Not your typical big band experience!
MORE RECENT HAPPENINGS
My artist profile on Reverbnation.com briefly broke into the top 100 national acts for World Music, and also ranked at #5 for NYC (linked blog post was written before while it was still ranked #6).
Thank you all for your continued support. Please check in this month to see any updates I hope to post from Korea!
Jeff Fairbanks
Composer, Performer, Bandleader