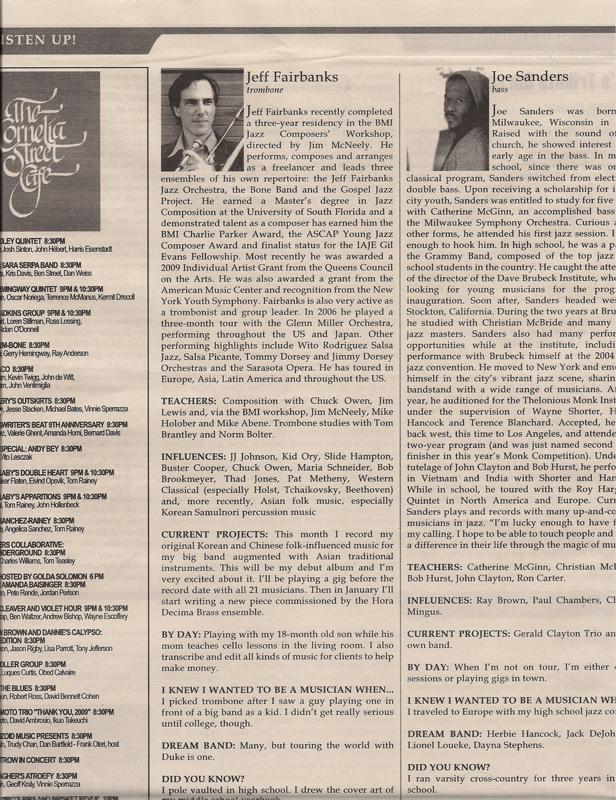 A list of press mentions of Jeff Fairbanks and/or his work
Featured video: MBC News segment recently aired throughout South Korea

National reviews:
I Am Entertainment "Four stars" (top ranking)
Pasatiempo (in print only)
@Critical Jazz. (see above)
Jazz Consumer Guide (see above)
International reviews:
All About Jazz Italia (Italy) — 3.5 stars
Jazzwise Magazine (UK) — 3 out of (typically) 4 stars. September 2011
Other press appearances:
Radio play:
Gugak FM (South Korea)
WBGO 88.3FM
WNTI 91.9FM
WGXC 90.7FM
WICB 91.7FM
National reviews (chronological order):
"The compositions on trombonist Jeff Fairbanks' album Mulberry Street—which mix his 17-piece Project Hansori jazz orchestra with five traditional Asian instrumentalists—sound very fresh. "Hansori" is Korean for "one sound," and Fairbanks' ensemble does bring distinct parts together in an original way. The album's title piece, "Mulberry Street," is a four-part suite for big band plus Asian percussion, depicting what Fairbanks describes as "experiences playing in a Western brass band at Buddhist Chinese funerals in the heart of Manhattan's Chinatown."
On "Mulberry Street, Part II," the trombonist explains, "Four soprano saxes mimic Chinese bright oboe-like instruments called suona… This folk-style melody accompanied by the small gong could be a scene straight out of rural China centuries ago." In the song "Han Oh Baek Nyeon/ 500 Years"—derived from "a very old and popular Korean folk song"—Fairbanks casts his muted trombone, so that it's "imitating a Korean oboe-like instrument called the piri" amid a quartet of gayageum, Korean zithers. Though it's unfathomable how a trombone, even muted, imitates an oboe, it works!
Hansori perform June 2 at LaGuardia Community College in Queens. A Mulberry Street release show is currently scheduled for June 30 at Swing 46, the Manhattan theater district supper club, where big bands play almost every night, and there's dancing. But Hansori will definitely be a first for Swing 46."
Emilie Pons, CityArts
"JEFF FAIRBANKS' PROJECT HANSORI/Mulberry Street: This is one of those records that you're so much better off listening to before you read all the program notes and hype. Funded by several arts council grants and fusing a bunch of musics that shouldn't be residing next to each other—none of that comes across on the disc. What you hear is a solid, contemporary big band date that sounds like it's played from the heart by a leader and crew that care. First class sitting down jazz all the way, listen first, read second. This is simply a dazzler throughout."
Chris Spector, Midwest Record
"The multicultural roots of Jeff Fairbanks' jazz project incorporates the elements of Korean, Chinese, and American Big Band styles. Moreover, Jeff was trained in classical music with experience in African-American gospel and Latin salsa genres, too. Though, the latter genres are not represented on this album. The striking four-part "Mulberry Street" medley of New York's Chinatown region contains sub-titles of "Entrance and Funeral March," "Scaring Away Evil Spirits with Joyful Sounds," "Releasing Grief," and "The Send-off." Named for a street in Chinatown, the songs reflect the Buddhist and Western funerary musical styles all on a palette of big band and Asian tones. Each song is instrumental and reflects the mid-twentieth century Spaghetti Western and other American film soundtracks of the period. Interestingly, the album is rather cohesive and fluid in its musical approach and execution. There are ecstatic moments, as well as quieter jams with short interjections of trumpet, sax, or trombone. Notably, 'hansori' means 'one sound' in Korean. In closing, Mulberry Street can be summed up in one word: magnificent!"
Matthew Forss, Inside World Music
"Trombonist/composer Jeff Fairbanks' Project Hansori incorporates traditional Korean and Chinese folk melodies into contemporary jazz on its impressive debut recording.  "Mulberry Street" (BJU Records) blends the talents of a 17-piece big band with traditional Korean instruments, special guest Fred Ho's mighty baritone saxophone and, one 1 track, Heun Choi Fairbanks on cello.  The fusion works nicely right from the opening track "San Da Ma", with its Korean Church hymn melody played in unison on Fairbank's trombone and guest RaMi Seo on gayageum (Korean zither.)  "Hoping for Hope" has a full "big band" sound and is based on rhythm pattern from Korean Samulnori music.  Here, the splendid rhythm section of bassist Linda Oh and drummer Bryson Kern are joined by percussionist Yosun Yoo on several traditional percussion instruments. The multi-sectioned piece rises and falls atop the rhythm, the back-and-forth of the reeds and brass and the excellent solo work of Oh, pianist Francesca Han and guitarist Sebastian Noelle (a long-time member of Argue's Secret Society as are reed player Erica von Kleist and trombonist Jennifer Wharton.)
The title track is a 4-part, 26-minute, suite that is a tone poem dedicated to the intersection of New York City's "Little Italy: and the Chinatown district.   "Entrance and Funeral March" opens the "suite" with a dirge (though the use of flute and clarinet lightens the mood a bit) before a brass band moves in (here, as in other sections of the "suite", one hears the influence of both Charles Ives and Bob Brookmeyer).  Part 2, "Scaring Evil Spirits Away with Joyful Sounds", blends Ho's majestic baritone with a chorus of 4 soprano saxophones at the onset before the band comes roaring in.  The piece slows a bit for a soaring alto sax solo from von Kleist leading to a rousing climax with the saxophones and brass firing away (take that, evil spirits!) Ho leads the band in again on Part 3, "Releasing Grief", a piece that uses Buddhist and Christian hymns played simultaneously (again, the Ives influence).  Later in the song, Ho steps out for a fiery solo before the brass plays a funeral march beneath Noelle's aggressive guitar solo.  Part 4, "The Send-off", is a wonderful collage of clashing yet sympathetic melodies and rhythms that serves to lay the piece to rest and put a wide smile on the face of the listener.
When I first encountered "Mulberry Street", I was knocked out by its bold combinations of traditional sounds and contemporary jazz but it is so much more than that.The section writing is clean, clear and inventive, harmonies abound, the soloists first-rate, and the vision of the composer is fully realized.  At a time when there are myriad large ensemble recordings, Jeff Fairbanks' Project Hansori is one of the most impressive and satisfying.  For more information, go to www.fairbanksmusic.com and follow the links."
Richard B. Kamins, Step Tempest
"Trombonist and composer Jeff Fairbanks was inspired by the convergence of cultures in New York City, especially around Mulberry Street where Little Italy intersects with Chinatown.He notes that in the south end of this street, some "Chinese-run funeral parlors, while conducting Buddhist ceremonies, maintain the Western brass band tradition established by their previous Italian operators. As a player in the brass band, my interest was caught by this unique and unlikely blend of cultures." It is this blending of Asian (Chinese and Korean) and Western musical traditions that is the heart of the Fairbanks' Project Hansori, a big band that explores his efforts at a musical fusion. "Hansori" is Korean for "one sound," and Fairbanks' ensemble attempts to bring distinct parts together in an original way on an new BJU Records release Mulberry Street. With his band is a special guest, Fred Ho on baritone sax, but the players are unfamiliar to these ears.
The opening selection is one of two he hasn't composed, San Ma Da, by Jae-Hoon Park, is a Korean church hymn about the fall harvest, and Fairbanks makes an impressive solo statement followed by Remy Le Bouef's slippery soprano and Linda Oh's impressive bass. Fairbanks' sophisticated arrangements adds atmosphere and texture for the lively performance. Woodside Story opens with Chinese flavor in the reeds (flute and clarinet) along with Chinese percussion before becoming a spirited performance incorporating the Chinese musical figures within the swinging big band performance with John Yao buzzing on trombone and Michael Webster on tenor sax constructing a marvelous solo.

Hoping For Hope is based on a certain rhythmic pattern in Korean Samulnori ("four objects sound") music with Fairbanks stating the theme first against Francesca Han's piano effectively making use of repetition, with the scoring of mostly clarinets against the brass very appealing here and guitarist Sebastian Noelle effectively working off the percussive center of this number with the horns playing building into a rhythmic frenzy. Han Oh Baek Nyeon/ 500 Years is a quartet rendition of an old Korean folk song with Fairbanks trombone along with Rami Selo on gayageum, Heun Choi Fairbanks on cello and Yosun Yoo on percussion with the cello expressing a somber tone reinforced by Jeff Fairbanks trombone. Bi Bim Bop is built on the spoken rhythm of the title and a 12-tone row that is constantly twisted and recycled to considerable effect.
The core of this disc is the marvelous Mulberry Street Suite, which, as noted, was inspired by the brass bands at Chinese-run funeral parlors. At certain funerals, both Western and traditional Chinese bands perform "often playing songs against each other in a tradition of using music to scare away evil spirits." The suite is Fairbanks attempt to create "an abstract impressionism of these experiences." Part 1: Entrance and Funeral March. is solemnly played as Han's piano rings the tempo of a brass band entering the home and playing a dirge with a brief soprano sax interlude with Jason Wiseman trumpet solo exploiting the middle range.
Part 11: Scaring Away Evil Spirits with Joyful Sounds, has a contrasting mood after the initial incorporation of Chinese folkloric sounds and percussion as well as scoring soprano saxophones to suggest the oboe-like suona. Fred Ho takes a short baritone sax solo at the beginning while Erica Van Kleist takes a lengthier solo interlude on alto sax that is rooted in the lower register of the instrument followed by mesmerizing interplay between the various band sections. Part III: Releasing Grief is a portrayal of moments in a Chinese funeral of releasing all their grief. Fred Ho enters unaccompanied before the full band comes in playing both Buddhist and Christian hymns with Ho taking a lengthy solo reaching deep down as well as adding squeaks and squalls set against Fairbanks somewhat dramatic scoring. "Part IV: The Send-off, with a trombone solo by Mark Miller at the beginning, evokes the part of a funeral where the casket is brought outside several bands play simultaneously. To achieve this effect the band is split into five separate ensembles near the end playing separate melodies. It serves as a dazzling coda, not simply to the suite, but the album.
The composition, Mulberry Street was commissioned by the BMI Foundation Charlie Parker Composition Prize with other grant support for the project. With Mulberry Street, the Jeff Fairbanks Hansori Project has produced a fresh and stellar big band recording that has brought together various musical traditions for a fresh and dazzling musical experience that is likely to be among this listener's best of 2011. Highly recommended."
Ron W., In A Blue Mood
"Mulberry Street (bjurecords): This big band concept album by trombonist-composer Jeff Fairbanks weaves Western and Asian musical threads into a bright and brilliant fabric, paying homage to that most multicultural of all cites, New York. Fairbanks' writing is rich and layered, and his soloists — including guest baritone saxophonist Fred Ho — reflect the spirit of his work. Jazz needs more of this kind of music."
Bob Bernotas, Just Jazz
Pasatiempo (in print only)
 "Multicultural trombonist-composer Jeff Fairbanks explores a fusion of Korean, Chinese and Italian musics on this daring big band outing.  The centerpiece of the project is "Mulberry Street", a four-part suite commissioned by the BMI Foundation and inspired by that strip of real estate in Lower Manhattan that connects Little Italy to Chinatown.  Baritone sax ace Fed Ho is featured on two parts of this sprawling suite that marries traditional Chinese motifs and Western brass-band traditions while blending in free-jazz expressions.  Other highlights on this ambitious project (produced by Fairbanks' colleague and fellow big-band leader Darcy James Argue) include "San Ma Da", a breezy take on a Korean hymn that showcases Fairbanks' fluid lines and lyrical sensibilities on trombone; the dynamic and thematically shifting "Woodside Story"; and the dissonant twelve-tone piece "Bi Bim Bop," which swings as it twists and recycles itself."

Bill Milkowski, Jazz Times
I Am Entertainment "Four stars" (top ranking)
"Anyone who says Jazz music is for elderly people clearly has not heard Jeff Fairbanks' Project Hansori. Upon hearing the 17-piece Jazz orchestra of Jeff Fairbanks and this new sub-genre called Asian Jazz, I was instantly a fan. What an incredible 'Mulberry Street' is, and what an awesome display of creativity and musical genius.
As a fan of the big band music of the 30s & 40s, 'Mulberry Street Part II" is my favorite because it's so huge. This tune massages the mind and really gives the ears a real dose of delight. One listen and I bet you'll be prepared to spend your money on it.
Another awesome, but tune is "San Ma Da" because of how brilliantly the orchestra fuses the trombone and other horns with the Asian stringed instrumentation. Its an awesome piece of music that oozes with class and modesty. You'll surely enjoy this one if you have an affinity for great Jazz music.
With so many great songs to offer, I urge you to go buy this album, you won't regret it."
Senseitional, I Am Entertainment
"Brooklyn Jazz Underground does far more than highlight the traditional or highly charged improvisational jazz scene of New York. Mulberry Street is a fascinating multi-cultural look at Korean, Chinese and Italian band music sprinkled with Asian instruments and fused into an eclectic big band sound that is a multi-cultural delight!
Fairbanks is a rising multi-faceted star if not musical voice on the New York scene working as composer, arranger, conductor and his instrumental skills as trombonist are second to none. The vision to see a hybridization of Asian folk and more traditional big band is ambitious at best but Fairbanks ties together all the loose ends in such a way that Mulberry Street advances past the big band idiom into a more contemporary jazz orchestra setting.
The compositions here are subtle yet cinematic in scope. An organic rhythmic intensity is personified through the artful use of certain Asian string instruments including the gayageum. There is a certain abstract if not impressionistic quality to some of the here but again it is the vision on compositional voice of Fairbanks that brings all the components together is a musical synergy of expression."
Brent Black, @CriticalJazz
"Trombone player, studied at University of South Florida, now based in New York. First album (only one of 4 side credits AMG lists looks right). Korean-themed big band project — presumably wife (and guest cellist) Heun Choi Fairbanks has something to do with the interest. Baritone saxophonist Fred Ho, whose Afro Asian Music Ensemble set the standard for this sort of thing, gets a "with special guest" credit on the front cover, but only appears on two tracks. There are spots where the Korean rhythms and tones emerge, but mostly a pretty solid big band record. B+(*)"
Tom Hull, Jazz Consumer Guide
Internat'l reviews:
All About Jazz Italia
"Trombonist Jeff Fairbanks, with this impressive orchestra composed of twenty musicians of Western and Eastern origins, is trying to find a meeting point between sensitivities that
are worlds apart. He does so with great arrangements, excellent musicians and effective compositions that are inspired by Asian folk melodies, while maintaining a harmonic
structure derived from the language of modern Jazz.  What seemed impossible thirty years ago now materializes in front of us with excellent results, perhaps helped in this cross-pollination now that globalization is connecting the world beyond the individual identity.  The influences merge and combine, as they should.  Moreover, the evolution is always passed through these processes of fusion of different cultures and nothing really important has ever come from isolation.
Among the musicians involved, we note the bassist Linda Oh, the baritone saxophonist Fred Ho, the pianist Francesca Han, trumpeter Jason Wiseman and guitarist Sebastian
Noelle. Apart from a couple of traditional Korean songs, all the compositions were written by Jeff Fairbanks, that he then arranged for the orchestra. He debuted them in New York at the Moldy Fig, a local venue that, in turn, is launching in the difficult world of Jazz clubs. Congratulations to both projects.  3.5 stars"
Maurizio Comandini, All About Jazz Italia
Jazzwise Magazine (UK), September 2011:
"East Asian music is among the fascinations of this US-based trombonist, big band composer, and arranger.  Here he, subtly yet persuasively, draws from Korean/Chinese music for his contemporary jazz large ensemble writing.  3 Stars"
Editor, Jazzwise
Other Press:
Queens Chronicle, 12/26/2013: "Queens Band Hits Silver Screen"
Few Queens bands get lucky enough to have a film made about them, let alone one that captures their rare performance at an ancient Buddhist temple – the oldest in New York City.
The just-released documentary, "The Temple of Memories" by Rego Park filmmaker Rene Sing and OwlSpring Media, features well-known Sunnyside jazz composer, trombone player and bandleader Jeff Fairbanks and his 17-piece jazz band, Project Hansori, performing a sound collage of exhilarating and multi-layered arrangements to a mesmerized audience.
The film picks up with the band's performance at last year's Asian American Arts Alliance's "Locating the Sacred" Festival. They play beautifully, surrounded by ancient temple artifacts.
Fairbanks says he approaches East Asian traditions from a Western jazz context in his music. Since 2007, Project Hansori has presented a signature mix of big band jazz – with its bold Western brass and drums sound, accented by the gentler fluidity of East Asian-infused tunes, using Eastern instruments.
In a special Dec. 19 performance — set in Sunnyside's quaint, Gothic style All Saints Church — Fairbanks and his band were featured in an all-new, Queens Arts Council-funded program, "New Sounds of East and West," while in May 2013 he and his wife Heun Choi performed at Queens College, as featured guest performers in a concert of the New York Korean-American Chorale.
The film is a must-see, entertaining and informative experience for any jazz buff. The film takes viewers behind the scenes of an epic and unlikely, East-meets-West musical collaboration between Japanese taiko — ensemble drumming on Japanese percussion instruments — and Western jazz, interwoven with Fairbanks' closeup, candid interviews. The filmmaker said he first encountered Jeff at a meeting of local artists searching for ways of collaborating.
Fairbanks said the performance itself was very experimental; it wasn't a traditional concert setup. With 25 musicians total, he split them into five smaller groups in each room of the temple: trombones on the first floor, saxes upstairs, taiko drums in the basement, etc.
"I gave them all different music to play at the same time, unsynchronized, for 45 minutes," he said. "It was a sound collage, and very ethereal, as you could hear traces of the other groups from a given room. This was an extension of the effect I often heard, while playing with multiple bands …"
The audience wandered freely from room to room to see each group, like an art exhibit. The film shows a couple of glimpses of the unique setup, and at the end there's footage from the traditional concert setup of the combined groups that Fairbanks closed the performance with.
Tammy Scileppi, Queens Chronicle
Times Ledger cover story in Entertainment section
"Asian folk music fused with modern jazz? You've got to hear it to believe it.
For much of his career, Queens trombonist/composer Jeff Fairbanks has sought to merge his passion for jazz and his fascination with traditional Asian music — and has successfully created his own unique fusion of cool, brassy big-band sounds, accented by compelling Chinese instrumentals.
On Thursday, the talented musician and his band — together called Jeff Fairbanks' Project Hansori — will perform songs from their debut album, "Mulberry Street," at LaGuardia PAC (Little Theater), in Long Island City.
Project Hansori ("one sound" in Korean) features a cast of 18 of New York's top jazz musicians, including Fairbanks, the band leader.
"I treat it like a symphony orchestra. I compose the songs and most of the time I conduct," Fairbanks says. "It's a standard jazz big band with five saxophones, four trombones, four trumpets, bass guitar, and drums."
Fairbanks says half of his musicians live in Queens — mostly Astoria.
Fred Ho, who "knows how to make fusion sound good," is featured on the album.
Turning it up a notch, a visual arts component will be added to the concert at LaGuardia PAC.
Visual artist Jin Hwan Cho, a Sunnyside resident, will lead an exhibition of his works and those of five other Queens artists (Caroline M. Sun, Sook Hyang Baik, Youngsam Kim, Nancy Rakoczy, Jay Moorthy) in the theater lobby before the concert, and at intermission. Their exhibit, called "Resonance", is tentatively scheduled to open at 6:30 p.m., before the 8 p.m. concert June 2.
"Mulberry Street" (which won an American Music Center recording grant) delivers a surprising and unlikely symphony of exotic Chinese and familiar Western instruments and jazz compositions that mesh together yet retain their unique, intrinsic components. The resulting potpourri of rhythmic patterns takes some getting used to, but ultimately, becomes an amazing experience — almost transcendental. There's even a bit of Dixie thrown in for good measure.
What do you expect from a trombonist who's performed and toured with the iconic big-band era Glen Miller Orchestra's "ghost band," and received his master's degree in jazz composition? Asian-Jazz fusion is a difficult genre to play.
Fairbanks says he taught himself to write Asian traditional music through informal study. "I do all the orchestrations and compose mostly out of my head — that's my main thing — being a jazz composer, then a trombonist." He wrote seven of the nine songs in his album, which has a fast-motion street scene of Chinatown on the cover.
Interested in all that is Asian, the trombonist and his Korean wife, cellist Heun Choi Fairbanks, are very active in the Queens' Korean musical community. Fairbanks joined the orchestra at a Korean church, New York Presbyterian Church in Long Island City, where he still attends. His wife teaches at the church and at times performs with his orchestra on the album. For the past few years, they've lived in Sunnyside with their two sons.
Even though the 31-year-old musician was born and raised in Florida, he's very much a Queens guy. He enjoys eating chili at Aubergine's on Skillman Avenue in Woodside, and buys cookies and coffee at the local bakery there. His earliest musical influence was his dad's eclectic retro collection of cassettes; he says he couldn't get into the music of the '80s and '90s.
The musician's work tells a story with rich, colorful cadence. He drew his inspiration for the album's centerpiece four-part suite, Mulberry Street (commissioned by the BMI Foundation Charlie Parker Composition Prize), while playing with a brass band at funeral parlors in Chinatown — on Mulberry Street. "I've done this for the past few years, three or four times a week — it's my bread and butter," he says.
Fairbanks started playing at these funeral parlors in 2008, "after the other trombone player left, he recommended me to the band. Here's the thing… here, our band is just a brass band with six musicians. We play church hymns and stuff; sometimes they'll play traditional Chinese Buddhist music against us, using all Chinese instruments. There's a gong and even an accordion," he says.
"It totally clashes, but that's what they want — the chaos — because it's supposed to draw away evil spirits and ease the path of the deceased into the afterlife." The music is also meant to calm mourners.
In his complex piece from Mulberry Street, "Part II, Scaring Evil Spirits Away with Joyful Sounds," Fairbanks' haunting rendition recreates this theme in a Chinese folk-style song. There's even a 500-year-old song that he interprets via fusion.
Fairbanks adds, "There was a bus crash in the Bronx that killed several people a couple months ago — a casino bus. Many were from Chinatown, and funerals were held there for some of the victims. I saw a big commotion on the street — local news covering it — I just played at one of those funerals."
Another piece, titled Woodside Story, is inspired by the energy and diversity of Fairbanks' old Woodside "hood" where he lived for there years.
Flushing Town Hall hasn't been the same since Fairbanks' band received a grant from the Queens Council on the Arts to perform there in 2007. He even served on their panel, and also won the Individual Artist Award, competing with other musicians and artists.
Achieving a cross-cultural popularity, Fairbanks is joining the ranks of the younger generation of Asian-Jazz fusion musicians.
"As a freelancer I play all over the place… at Swing 46 in the city, every Wednesday. It's all swing music, big-band era stuff… it's a jazz supper club on Restaurant Row on 46th Street."
He also plays at the Carnegie Club on 57th during the Sinatra show every Saturday: "There's a Sinatra impersonator who sings, tells jokes… It's a cigar bar so it's really smoky," he says. "It's pretty weird — to make a living you gotta do everything that comes your way."
Fairbanks has been commissioned by the West Point Band's Jazz Knights, to compose a new piece for their performance in the fall. They're a professional jazz big band that serves the West Point Military Academy.
Another CD release concert will take place June 30, 7 p.m. at The Moldy Fig, 178 Stanton St., Manhattan, www.moldyfigjazzclub.com or 212-777-3727.
The album debuts on June 7. It will be available on amazon.com and bjurecords.com. Grammy-nominee Darcy James Argue produced the recording."
Tammy Scileppi, Times Ledger
All About Jazz-New York (now NYC Jazz Record): Jeff featured in Listen Up! column December 2009.
AllAboutJazz.com Featured on home page in July. Also editorial comment.
"[Mulberry Street part II] has the wild exhilaration of a Tom Waits song and the experimental whimsy of Kamikaze Ground Crew. This is the kind of tune to get your Big Band Friday night started. Jazz from the Brooklyn jazz scene."
Editor, AllAboutJazz.com
"…a wonderful composer named Jeff Fairbanks…also a fine trombonist… has against all odds put together a large ensemble that plays so-called 'jazz' in meters like 5/8-5/8-6/8-5/8 while simultaneously combining Korean, Chinese and Italian band musics (think Nino Rota) complete with Asian instruments into a recognizably American big band idiom. And it SWINGS!!!"
Sam Burtis, trombonist
"His composition was so sophisticated and artful".
Mike Wood, QueensBuzz.com (Nov 10, 2008)
"an ambitious suite that mixed traditional Chinese gongs and musical gestures with more jazz-like passages".
Joe Phillips, Numinous (Jun 27, 2009)
"Jeff Fairbanks' repertoire is a mix of modern jazz and Asian music"
JC Sanford in Lucid Culture interview (Sep 01, 2010)
"Jeff Fairbanks Wins Charlie Parker Composition Prize at BMI Jazz Showcase"
American Music Center, New Music Box (Jun 27, 2008)