PROJECT HANSORI, meaning "one sound" in Korean, encapsulates Jeff Fairbanks' large scale work fusing Jazz and the music of various cultures, drawing heavily from certain East Asian traditions.  This 17-piece Jazz band, occasionally augmented with traditional Eastern instruments, reflects his vision for combining different cultural elements into a contemporary, orchestral Jazz setting. The ensemble is a talented cast of New York's top Jazz musicians. Project Hansori has performed at the CMA Asian American Arts Festival, the Locating the Sacred Festival, CUNY College's LaGuardia Performing Arts Center, Flushing Town Hall and other venues throughout Manhattan, Brooklyn and Queens since 2007. It has also collaborated with samulnori drummers, taiko drummers, dancers, and other guests. Hear and watch Project Hansori below:
MUSIC, VIDEOS, ETC. AT WWW.REVERBNATION.COM/JEFFFAIRBANKS
Jeff Fairbanks' public calendar (includes Project Hansori, Street Beat Brass Band, and other ensembles led by Jeff):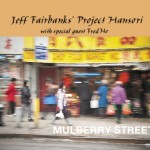 "MULBERRY STREET", Project Hansori's debut album released on Brooklyn Jazz Underground Records, won major grants from both the American Music Center and the Aaron Copland Fund.  Among the Just Jazz top ten albums of 2011, critics have called it "a dazzling musical experience" (In A Blue Mood), "summed up in one word: magnificent!" (Inside World Music), a "daring big band outing" (Jazz Times), "an awesome display of creativity and musical genius" (I Am Entertainment), and "Asian folk music fused with modern jazz? You've got to hear it to believe it" (Astoria Times).  Grammy-nominee Darcy Argue produced the recording sessions.
Liner Notes:
San Ma Da: By Jae-Hoon Park, this Korean church hymn about the harvest also describes Fall colors making the mountains appear to be on fire.
Woodside Story: Inspired by the diversity and energy of my old neighborhood of Woodside, Queens.
Hoping for Hope: Based on part of a certain rhythm pattern in Korean Samulnori music. The four percussion instruments used in Samulnori ("four objects sound") are featured here: kkwaenggwari, janggu, buk, and jing.
Han Oh Baek Nyeon/ 500 Years: This old folk song to me really captures the essence of Han, a central part of Korean life. Its lyrics appear to be about lovers but are really an analogy of the bitter struggle of Korea's long history (closer to 5,000 years than 500).
Bi Bim Bop: Based on the spoken rhythm of the title (/bee-beem-BOP/), this piece provides relief with its dark humor and as the album's only swing number. It's also built on a single 12-tone row constantly twisted and recycled.
Mulberry Street suite: Over the past few years I have become very acquainted with a fascinating corner of New York. Mulberry Street in Manhattan connects Little Italy on the North with expanding Chinatown on the South. Near the South end of this street a row of Chinese-run funeral parlors, while conducting Buddhist ceremonies, maintain the Western brass band tradition established by their previous Italian operators. As a player in the brass band, my interest was caught by this unique and unlikely blend of cultures. At certain funerals, both a Western band and a traditional Chinese band will perform, often playing different songs against each other in a tradition of using sound to scare away evil spirits. With this piece I attempted to create an abstract impression of these experiences, informed by the different sounds and themes heard there. Part I, Entrance and Funeral March: This movement portrays a brass band entering a packed funeral parlor while playing a solemn dirge. This evolves into a meditation on the fear and mystery we feel about death. Part II, Scaring Evil Spirits Away with Joyful Sounds: This answers the fi rst movement with a raw, bright expression of humanity dispelling death's sting. Here I composed a theme in a Chinese folk style, using soprano saxophones to imitate the oboe-like suona. Part III, Releasing Grief: This portrays moments in some Chinese funerals intended for people to release all their grief at the ceremony. It uses actual Buddhist and Christian hymns played over each other. I learned the Buddhist hymn by hearing it played at such funerals. Part IV, The Send-off: This shows the send-off, where several bands (Eastern and Western) may play different songs simultaneously with great fanfare as the casket is brought outside. To accomplish this effect, I split the orchestra into five independent ensembles near the end.
Composer, arranger, conductor, trombone, aux. percussion: Jeff Fairbanks Woodwinds: Erica von Kleist (alto, soprano, fl ute, piccolo), Rob Mosher (alto, soprano, clarinet), Michael Webster (tenor, soprano, clarinet), Remy Le Boeuf (tenor, soprano, clarinet), Paul Nedzela (bari, bass clarinet) Trumpets: Tim Wendt (lead #1, 6-9), Dan Urness (lead #3), Colin Brigstocke (lead #5), Jason Wiseman (lead #2) Trombones: Matthew McDonald (lead), John Yao, Mark Miller, Jennifer Wharton (bass) Rhythm Section: Sebastian Noelle (guitar), Francesca Han (piano), Linda Oh (bass), Bryson Kern (drums) Guest performers: Fred Ho, bari (#7,8) RaMi Seo, gayageum (#1,2,4,8,9) Yosun Yoo, percussion (#1-4, 7-9) Heun Choi Fairbanks, cello (#4) Session Producer: Darcy James Argue Assistant Session Producer: John Guari Band photography by Daniel Cho Album design and cover photography by Ma Yan. Recorded, mixed and mastered by Paul Wickliffe. Big band tracks (all except #4) recorded at Bennett Studios, Englewood, NJ on December 7-8, 2009. Han Oh Baek Nyeon recorded at Charlestown Road Studio, Hampton, NJ on March 26, 2010. Mixed/Mastered at Skyline Productions, Warren, NJ. www.skylinepro.com