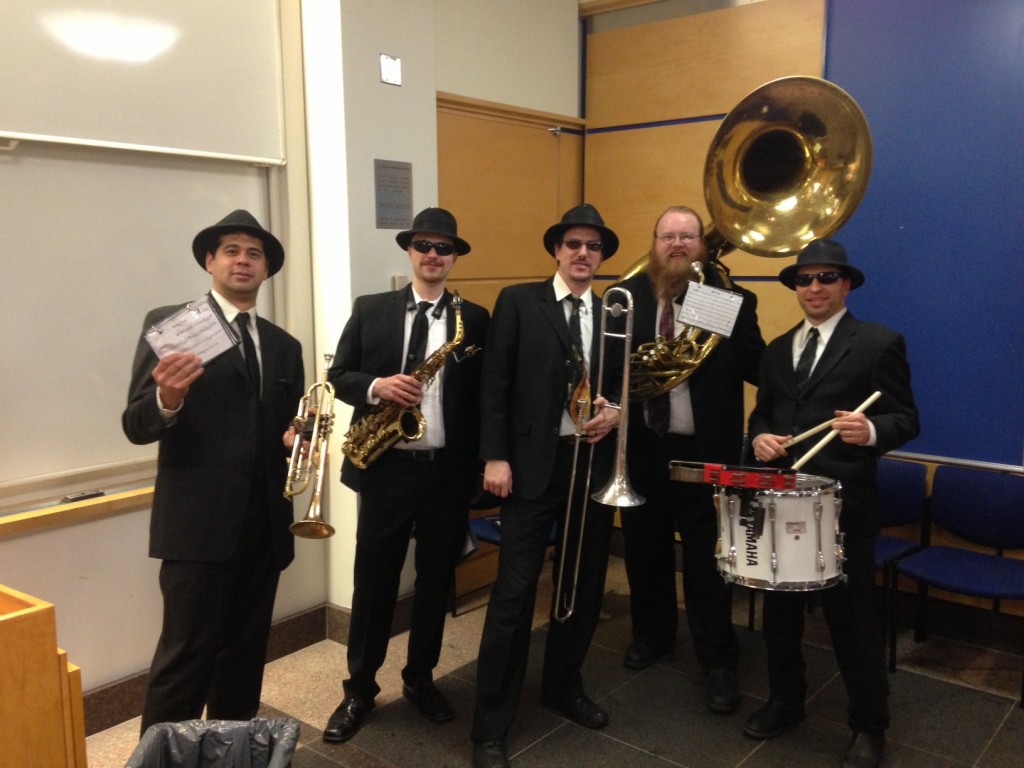 Thank you for your continued interest in my music. One has much to write about when their previous newsletter was six months prior. My immediate announcement below is a rare public Street Beat appearance, this Sunday night at a Lower East Side brewery. You'll also enjoy watching and listening to a pair of Korean broadcasts I was involved in, one TV and one radio. HD videos from Project Hansori's last concert are up. Sadly, in April we lost to cancer a truly individual artist with whom I was privileged to work, Fred Ho. Two articles about his passing are linked, including one from the NY Times.
STREET BEAT at PAULANER BRAUHAUS
Sunday July 13 at (tentatively) 8-10pm
Paulaner Brauhaus: 265 Bowery New York, NY 10002
212-780-0300 www.paulanernyc.com
Join Street Beat Brass Band at the Paulaner Brauhaus in the LES for a post-Germany-final World Cup after party. We hit after the close of Sunday's match, between 7 and 8pm, and play tentatively until 10pm (depending on game ending time). We've done a lot of private gigs lately, but this is the first full-band public performance in some time. If you come early to watch the game there, it will play on two 8-foot screens. So what better world cup atmosphere than a funky brass band at a German biergarten and a room full of over-enthusiastic ex-pats?
https://www.facebook.com/events/490405481103483/
KOREAN TV BROADCAST ON MBC NEWS
The Korean TV network MBC interviewed me about my work exploring Gugak (that country's indigenous performing arts), and interacting the same with American Jazz. The segment aired on this network's nightly news show throughout South Korea on 2/10/14. Watch the video:
http://youtu.be/txAilvosDks
KOREAN RADIO BROADCAST and CONCERT
My wife Heun Choi and I joined Korean multi-instrumentalist Gamin and percussionist Satoshi Takeishi on stage 2/7/14 at Flushing Town Hall. The program included my composition Duduk. The concert was later broadcast on the Korean radio station Gugak FM, and can be heard at the below link. After clicking, you'll  see a list of broadcasts with Korean titles.  Just click the third green button from the bottom. The entire concert will play on just one track.  Duduk starts after 1:02:00; and we're also heard on an improvised piece after 49:00.
http://www.gugakfm.co.kr/aod_player.asp?Num=389&FileName=20140403-1930
"NEW SOUNDS OF EAST AND WEST" LIVE CONCERT VIDEOS
These were professionally filmed, and then edited by your truly. Due to the time-intensive work, I've been able to complete the two songs here. More will follow as I can complete them. Please enjoy and share them. To be notified as soon as I post new videos, just subscribe to my YouTube channel (via the links):
Cumberland Gap
http://youtu.be/CzTDzQriBPo
Kangwondo Arirang
http://youtu.be/hoYXVXMw9O0
ARRANGEMENT ON NEW ALBUM RELEASE
My arrangement of John "Dizzy" Gillespie's Manteca appears on a new record just released by the Band of Bones, called Caravan. This band has eight trombones plus rhythm section. Trombonist Steve Turre and harmonica player Hendrick Meurkens appear elsewhere on the record. B.O.B. has been playing locally quite a bit, so there are plenty of chances to hear them play music from this new release.
http://bandofbones.com/
PROJECT HANSORI at SOUND OF ARTS FESTIVAL
Wednesday, November 19, 2014 at 8pm
Secret Theatre, 4402 23rd St Long Island City, Queens, NY 11101
Tickets TBA
Multicultural Sonic Evolution (MuSE) presents a concert of Project Hansori, as part of its 2014 Sound of Arts Festival. This festival will include more than 50 artists and will program the work of only living composers.  I'm happy to be invited as part by my friends at MuSE, a wonderful non-profit devoted to producing artistic events. This is the next concert on the horizon for Project Hansori since its last performance in January at the Children's Museum of the Arts in Manhattan.
www.musefriends.org
PAST PERFORMANCES
Street Beat played quite a few private events through the winter and spring. We do it all, and couple gems were a proposal in Central Park (orchestrated from Brazil); a party for a German soccer fan club; an Upper East Side rooftop wedding; and an Upper West Side Bat Mitzvah (that unfortunately canceled).
We also gave some public performances including Columbia University in February and May; Sunnyside Gardens Park's Memorial Day Fair; and a GrowNYC Green Market in June.
REMEMBERING FRED HO
Sadly, composer-activist-baritone saxophonist Fred Ho passed away 4/12/14. He was only 56 years old and had been battling cancer for years. Fred performed as a special guest with Project Hansori on several concerts and on the band's recording Mulberry Street. Fred was a very unique and charismatic individual who spoke his mind, and who leaves behind a large legacy of his work, which deserves much attention. Below is a NY Times article announcing his death and celebrating him:
http://www.nytimes.com/2014/04/13/arts/music/fred-ho-56-composer-and-radical-activist-dies.html?_r=1
This announcement by his former student Marie Incontrera is much more personal:
http://www.newmusicbox.org/articles/a-celebration-of-fred-ho/
His website is out of date but contains much info about his work:
http://www.bigredmediainc.com
Thanks for your interest,
Jeff Fairbanks
Composer, Performer, Band leader
www.fairbanksmusic.com