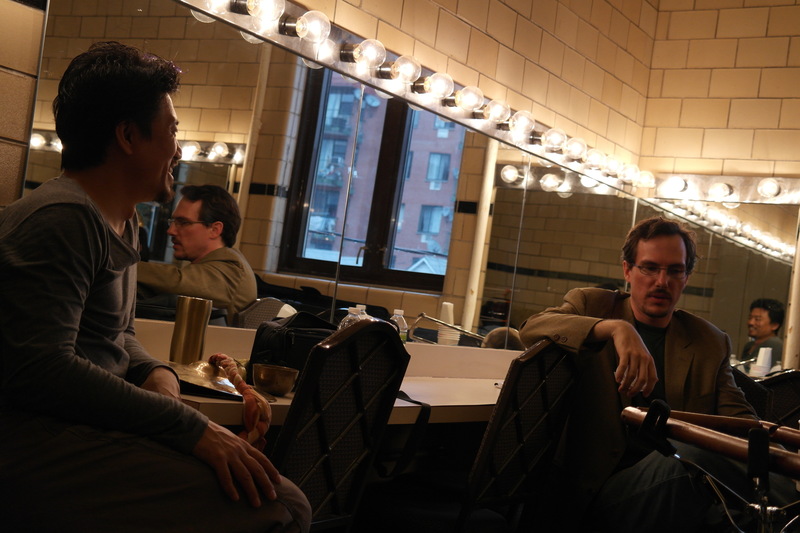 Dear Friends,
Happy New Year and a thank you for your continued interest in my music.  2013 is full of promise with both ongoing and new opportunities detailed below: the Composers Now Festival, my commission to compose for the Airmen of Note, and a grant award to fund an exciting new project. You'll also find links to my recent interviews on WICB radio and Exploring the Metropolis, plus a short recap of the high points of 2012.  Pictured above, I share a break with Chang JaeHyo (at left), during an October rehearsal with his Sonagi
Project.

NEW APPEARANCE @ COMPOSERS NOW FESTIVAL 2-17-13
Sunday, February 17 at 5pm at Flushing Town Hall: 137-35 Northern Boulevard, Flushing, NY 11354 map.  Free.   In a first for me, my upcoming lecture offers my closest audience interaction to date. Part of the Composers Now Festival, this event will be a great
chance to meet any local readers (you!) and to open a window into what I actually do between newsletters!  Here's a blurb about it:
Composer-in-Residence Lecture: Composing on Korean Wind Instruments
I'd like to invite you to a presentation I'm giving at Flushing Town Hall on Sunday, February 17 at 5pm. During the Fall I served as composer-in-residence at this venue, in an opportunity funded by Con Edison and administered by Exploring the Metropolis. To
culminate this residency, I will give a talk about my unique choice to compose during this time solely upon Korean wind instruments, the piri and taepyeongso — including teaching myself to play them. I will talk about this composing method, my findings, and briefly
demonstrate the work in progress on these instruments.
Many of you know me to date as a composer and trombonist. So I'm excited to share this new instrumental path and deeper study of Korean music that I've begun; a path I intend to continue long after the residency. I believe those of you who will be in the area on 2/17
will have a unique interest in attending. See event details and links below.
http://exploringthemetropolis.org/event/jeff-fairbanks-at-flushing-town-hall/
http://www.flushingtownhall.org/events/event.php?id=1009#.UO2uD6zxmqE
http://www.composers-now.org/

NEW PROJECT AWARDED GRANT
The Queens Council on the Arts has awarded my proposal for a new project I'm calling New Sounds of East and West. It's still being  developed and I don't have many details to share yet, but here is a little more info in my recent blog post:
http://fairbanksmusic.com/2013/01/08/qca-grant-awarded/
http://queenscouncilarts.org/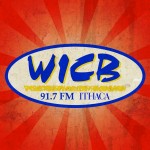 WICB INTERVIEW
Listen to my recent interview with WICB 91.7FM Jazz Impressions, where we spoke about the cultural background to Mulberry Street and some recent happenings:
http://soundcloud.com/92-wicb-ithaca/jeff-fairbanks-interview
ALL ABOUT JAZZ ITALIA REVIEW OF MULBERRY STREET
A new international review! The Italian critic Maurizio Comandini reviewed Mulberry Street recently for All About Jazz Italia.  My link  includes the English translation and a link to the original article.
http://fairbanksmusic.com/2012/11/27/new-review-from-italy/

ETM INTERVIEW
Read my extensive interview published by Exploring the Metropolis, the organization that administered my composer residency funded by Con Edison:
http://exploringthemetropolis.org/2012/11/a-raw-powerful-expression-of-humanity-an-interview-with-jeff-fairbanks/
IN REVIEW
What an eventful year 2012 was for me, both personally and professionally. My dental
implant procedure is now complete, 'capping' a 15-month journey since my career-altering injury. But truly teaching me about healing is my two year old son Kyle, whose miraculous recovery and progress since his traumatic fall in May has made my family is intensely grateful. (Pictured bottom-to-top are Kyle, his mom Choi, brother Teo, and Daddy — after Kyle's return home in July from two months in the hospital).  Looking back, I thank God for this miracle, as well as for opening professional doors during the year. I find it important to reflect, appreciate, and share highlights of these opportunities here:
…launching and performing with Street Beat in Spring and Fall including being pictured in the NY Times, the alliance of Project Hansori and Soh Daiko at the Locating the Sacred Festival, the Sammy Nestico Award and performance with the USAF Airmen of Note, performance at the All Nite Soul Festival, my first radio interview, an extensive interview with Exploring the Metropolis, an ASCAP Plus Award, a thrilling collaboration with Sonagi Project, the Con Edison Composer Residency, the premiere of Cumberland Gap commissioned by West Point Band's Jazz Knights, the premiere of Sanjo for Violin and Piano commissioned by JongEun Lee, and new international praise for my 2011 album Mulberry Street.
Best of health, happiness, and musical experiences to you in 2013.
Thank you,
Jeff Fairbanks
Composer, Performer, Bandleader